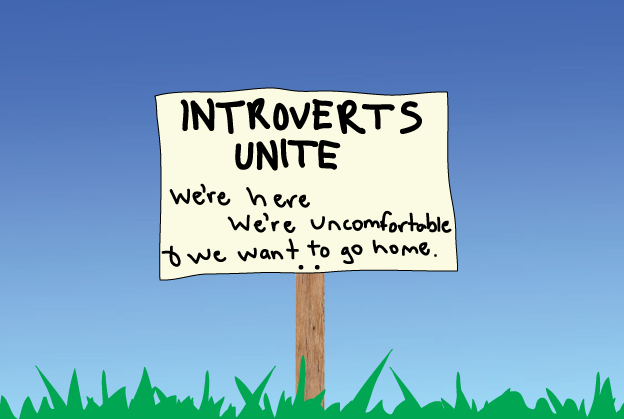 by Stephanie,
1) We need to recharge alone.
This right here is the cusp of the entire introvert vs. extrovert debate (if there is one, anyway) – Introverts need to be alone to recharge. We tend to get completely worn out by socializing. This is basically what it means to be an introvert.
2) We don't hate being around people, but we probably hate crowds.
I love being with people, but if you drop me into a large crowd I instantly feel like I'm alone and invisible. I try to avoid situations where I feel that way, so I may decline your open invitation to some random event. It doesn't mean I don't like to be around you, it just means I like to have more control over my surroundings.
3) We don't mind silence.
I can sit beside you in silence and not think we are having a bad time. This is especially true on road trips and can be a little confounding to true extroverts. For this reason, I especially like going to the movies where it is already considered rude to chat. Rule #1 for dealing with introverts – Don't tell me I'm "too quiet." I hate that. Sorry I'm making you uncomfortable, but you really don't get to decide how much I have to talk.
4) Just because we are introverted doesn't mean we are shy.
Introvert and shy are actually two different things. Google it! In my case, I'm a shy introvert (the double whammy!).
5) We can turn on an extroverted personality when necessary, but it is especially draining.
See #1 and #2. I have no problem getting up in front of a group of people and giving a talk. I don't even get nervous by a question and answer period. But – here is the thing – I will need major recharge time afterwards and I won't be able to keep up this extroverted illusion all day. I can turn it on to dazzle a crowd, but if you take me out for lunch afterwards, I'll probably just listen to you talk. I am an excellent listener.
Continue reading here.  
779total visits,3visits today