Editor's note:  You can't make up this stuff.  The coincidences are far too many. This family has time-traveled.  
***
The internet tends to trump things up, but even this boggles the mind: A series of books from the late 1800s depicts a character named Baron Trump.
Oh, and the boy is aided in his quest by a man named Don.
Reddit users have been discussing the books, along with a number of other Trump-related conspiracy theories.
The books are credited to Ingersoll Lockwood, a lawyer who dabbled in fantasy fiction.
Lockwood's series of 19th-century children's books includes: Travels and Adventures of Little Baron Trump and His Wonderful Dog Bulger; Extraordinary Experiences of Little Captain Doppelkop on the Shores of Bubbleland; Wonderful Deeds and Doings of Little Giant Boab and His Talking Raven Tabib; and Baron Trump's Marvellous Underground Journey.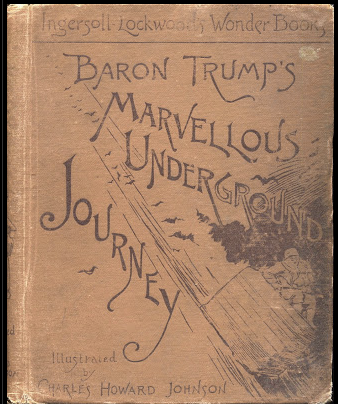 Newsweek also wrote about the books, noting that the coincidences go beyond the lead character's name ― which is just one letter off from the name of President Donald Trump's youngest child, Barron.
In Baron Trump's Marvellous Underground Journey, Baron is a wealthy young man living in a place called Castle Trump, but his real adventures begin when Don, the "Master of all Masters," inspires him to travel to Russia, where he finds a portal that allows him to travel to other lands.
Continue reading here.
471total visits,1visits today