I'm having a hard time at the moment.
Finding something to Believe in ~ other than my own abilities ~ is a challenge.
What do I give faith in?
Do I continue to put my faith in this Ascension process?
Do I continue to put faith in the idea that dark is falling, arrests are being made and Paradise is slowly (behind the scenes maybe?) manifesting?
Days like today make this faith difficult and my desire is to just stay in bed until the Event.  Or until "it's" all over.
I read those words and shake my head because today I don't even know what the Event is, what I want it to be or what I mean by "it" being all over.
We could have had a beautiful, blue sky today but the chemtrail criminals were at it, turning our sky into a haze, chilling the air.  That and smelling round-up and who knows what other chemicals neighbors are spraying on their yards around us brought us inside.
Taking a nap didn't help.  Stretching.  Nada.
I feel like shit.
I feel lost.
I don't want to be here in this reality any longer.  (Repeat that 1,000 times).
We are told we must release the need to go home and yet this is what I want!
How can I possibly enjoy states of bliss when my skies are artificial chemical concoctions of toxic filth and when my neighbors seem to think they have the right to add to that toxic soup by spraying round-up because they are too lazy to pull some weeds and too lazy to do their own research to see if what they are spraying is hazardous?  THEIR ACTIONS PUT ME AND MY CHILD INSIDE!  THIS IS WRONG – on so many levels.
WHERE IS MY HOME??!!
This is not a Spiritual Crisis as some would claim.
This is a crisis of ANGER.
Righteous Anger.
Rightfully Anger my rights and freedoms continue to be stripped away from me due to the ignorant and criminal actions of others.
I try to tread lightly.
I consider other people before I undertake certain actions.
Heck, I even consider you my readers when writing pieces like this because I don't want to cause any of you distress.
And yet such thoughtfulness, my god, where is it today??
In 24 hours we have had two dogs lunge at my child, both owners dismissing the behavior of said dogs, one going so far as saying "oh she just likes you."  WTF??  (Yes I challenged both situations going so far as growling back at one of the dogs.  The other was a still more or less a puppy, untrained but the owner still thought it would be fun for my child to play w/her 50 lb. puppy even though the dog may knock her down. Both of these dogs are untrained, owned by women in their 60's so NO EXCUSES!)
We have had on-going spraying of crap by neighbors around us the past three days.
We have had dogs pooping in our yard because we removed the tape we had placed around the grass because we seeded it last fall.
Do we REALLY have to put up signs asking people to be considerate before they spray, let their dogs poop and/or jump up on my child?
SERIOUSLY??!!
I wrote a piece recently on this topic of zombified states within the masses.
I didn't go far enough.
Most people are mindless dolts.  Robots.  Or "bots" as someone recently said.
And I have the right to wish for a totally different reality where I live with people who are more in-tune with my behavior, thoughts, vibes.
A reality FREE OF THE BOTS.  They can have their land of "huh??".  (And Hillary can rule over them all.)
For why I am still here in this land of "huh??!!", is beyond me.
I really thought I would have transitioned out and away from this prison already.
When others are engaging in behavior that drives myself and my family indoors, I am No Longer The Rightful Owner Of My Destiny.
I have the RIGHT to determine the Destiny of My Day.  Every single day.
Period.
Even though I am not a fan of duality, it is time to draw the line in the sand.  I can't believe I am saying this, but this is where I am, where I have arrived on this 3rd Day of April, 2017.
Those who wish to remain in a reality where chemtrails are status quo, where glysophate is part of nature and the environment, where dogs are allowed to frighten children and poop wherever they wish, where the "Free market" rules, and where the same status quo, the lies and politics-as-usual deception plays out.
Here's the line in the sand.  They can have that side.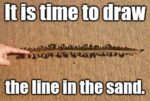 I am choosing THIS side.
Freedom.
Pristine air, water and food.
Free energy.
No money necessary.
No politics.
Thoughtfulness and consideration reigns.
Truth is an honored virtue.
The well-being of ALL are more than words but a way of Being/Living.
Where Love In Action Now is not just a pretty name for a website.
But a way of Being.  (And that way I will no longer even have any need to run this site.  I will be too busy BEING with my family and all of you beautiful souls!)
♥♥♥
(My dear readers ~ I would like to make an appeal to you. I would like you to consider making a donation to show you support my work.  I do this to share my passion of writing, sharing my truth while being a voice in the Ascension and Awakening Process as well as a means of making an income to support my family. You can also help by purchasing my book, Live To Impress Yourself ~ An Interactive Journal available by clicking here.  Please visit me on facebook too!  I sincerely thank you for your support!)