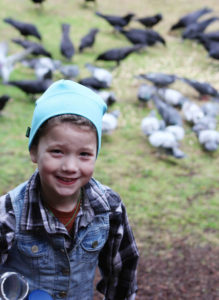 Many people leave out birdseed for feathered-friends in the neighborhood, although few get anything in return besides a lovely view of the birds, and a patio polluted with seeds. Eight-year-old Gabi Mann from Seattle, Washington started feeding the crows in her family's garden, and now this lucky little girl gets gifts from the crows.
Gabie keeps her gifts in specially labeled bags tucked safely inside a bead storage box. After all, these are her most treasured possessions. Her labels are detailed, for instance one containing a broken light bulb reads: "Black table by feeder. 2:30 p.m. 09 Nov 2014."
Gabie has received all kinds of gifts from the crows, including Lego pieces, beads, buttons, paper clips and pieces of foam. Her favorite gift of all is a pearl colored heart, she said, "It's showing me how much they love me."
Continue reading here. 
258total visits,1visits today