editor's note:  i've been waiting on one of the outlets to do a piece on this. no surprise they took the juvenile approach…there are so many holes in this miserable piece of modern day journalism…but what else is there to expect from them?  the WP and POTUS don't have the best relationship….the question that remains (upon reading this) – did Mr. "Fusca" respond to their request?  
******
Now that everyone knows about QAnon — now that, ahem, a certain national newspaper has published at least a dozen articles about QAnon in the span offour days — we need to ask why not everyone is convinced the conspiracy theory is true.
Maybe it's because QAnon is too true. Like, there's just too much truth crammed into a single conspiracy theory alleging that President Trump is secretly waging war on an evil cabal of liberals who rig the elections, and run the CIA, and abduct children, and hid all the UFOs, and killed Princess Diana, and did Hurricane Katrina, and invented vampirism, and … [consults QAnon guide …]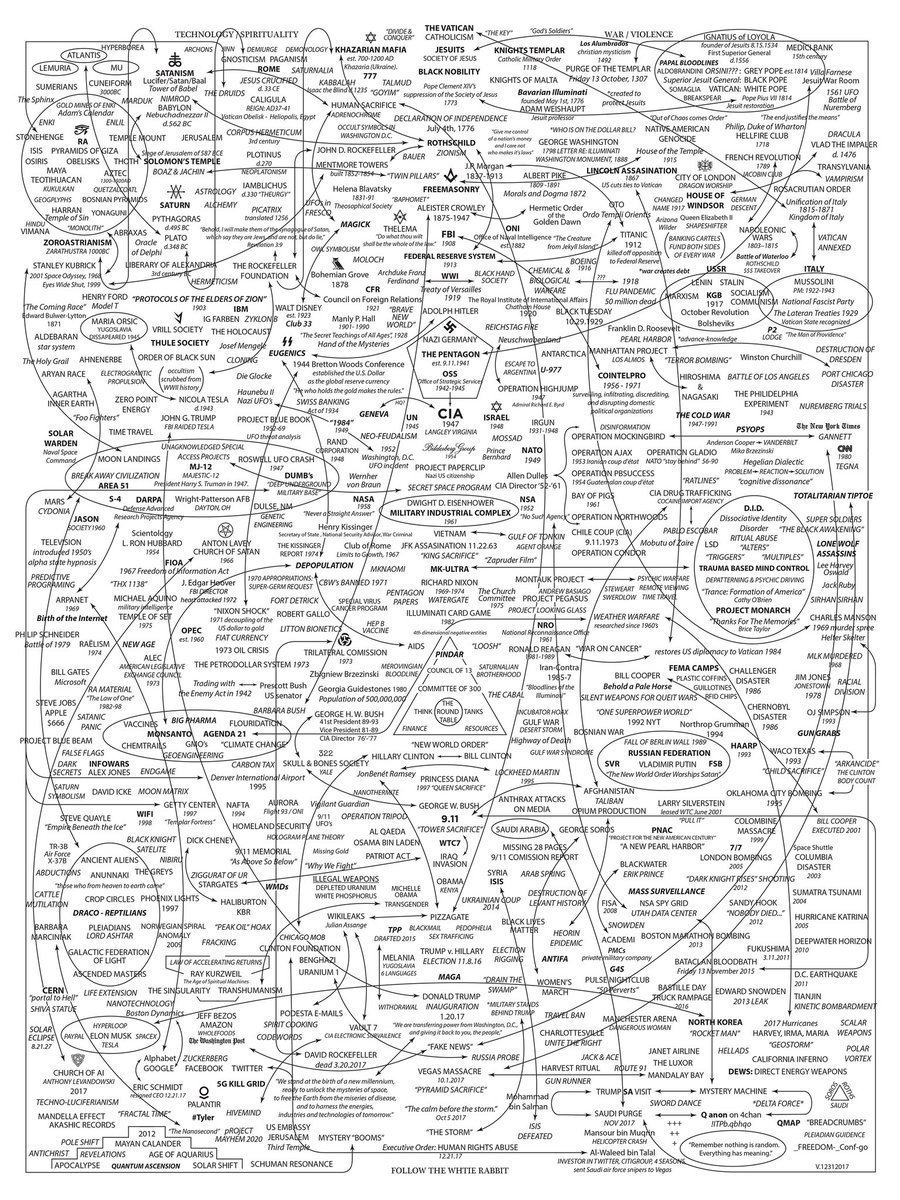 PeterNorway
@classiclib3ral
if anyone wants to learn about the deep state here's a handy little map posted by a qanon guy
It's a lot, even for those who have spent months following the writings of "Q" — the anonymous insider who late last year began to reveal the outlines of the supposed global cabal and Trump's supposedly secret plan to dismantle it.
For millions of people who learned about QAnon only last week, when seemingly every news outlet on the planet started to cover it, it can be downright overwhelming. No wonder people are skeptical.
We are here to help. Rather than try to prove the entire theory, we will simply examine one component claim, and the evidence for it, as an example of the meticulous research and robust body of evidence believers say supports all of QAnon. That claim is:
⚡⚡⚡ John F. Kennedy Jr. faked his death and joined Trump's secret evil-fighting organization, where he writes 4chan posts under the pseudonym "Q"⚡⚡⚡
We thank the Daily Beast for alerting us to the truth bomb above, which is a relatively new one in the QAnon compendium. Our analysis follows, with the most important evidence surrounded by lightning bolt emoji for clarity.
⚡⚡ Liberals killed President Kennedy! ⚡⚡
Even since his first anonymous forum posts in late October, Q has made clear that only three U.S. presidents in modern history are not part of the evil cabal and that all of them were in great danger because of it.
"The 'fix' has always been in," Q wrote in December. "No matter which party won the election (JFK killed/Reagan shot)."
Of course, Q was not the first person to see a conspiracy behind Kennedy's assassination in 1963. But in a February post, Q revealed that Trump and his allies recite a daily prayer to JFK in the Oval Office.
"Rest in peace Mr. President," it goes. "Since your tragic death, Patriots have planned, installed, and by the grace of God, activated, the beam of LIGHT."
Continue here.
Please follow and like us: