written by Victoria Trinity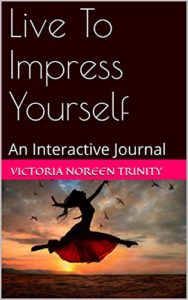 I am happy to present to you my first published book, Live To Impress Yourself.
It is an interactive journal.  I have listed a series of 60 plus questions, divided into sections, which you then answer.  It is like an interview with the Self, with questions such as "What do you hope people will say about you at your funeral" and "If you could spend your day with just one person, living or dead, who would it be and why."  In this world we are pressured to impress other people, but how can we do that authentically, without first impressing (through knowing) ourselves?
I created this journal to help you live your best life as your best self.  You can purchase it on LuLu.com by linking below.
Or you can buy it as a Kindle book through Amazon by following this link.
Thank you!  ♥
Victoria